Month:
November 2011
Baptism with an Ethiopian Coffee Cermony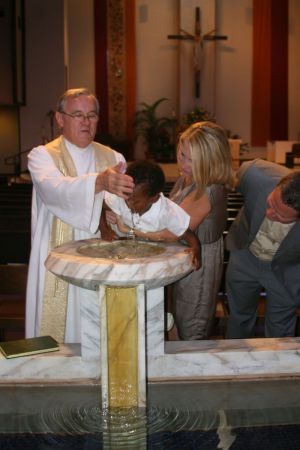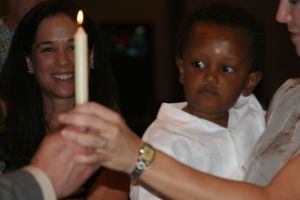 We pulled together Haben's baptism finally on November 20th. We were so blessed to have Father Walsh choose to perform his baptism, our head Priest who married William and me. Our wonderful Godparents are Heidi & Scott,
the sweet parents who inspired us to adopt with their sweet Jonas, also from Ethiopia, and our super friends Mike & Cristina, college roommates of William's from dental school and beyond. Father Walsh made it the perfect ceremony by keeping it
kid friendly and light but making Haben feel special and blessed.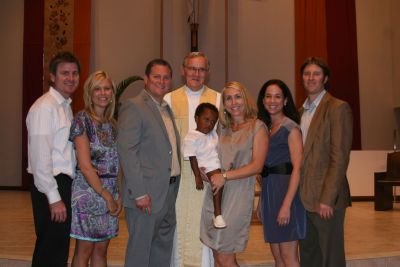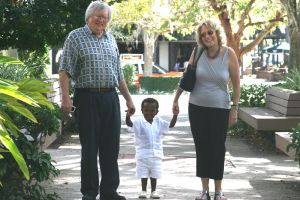 We tried to keep the after party simple and light but when the idea of a typical Ethiopian Coffee ceremony came to mind, we couldn't resist inviting some of our Ethiopian friends. We hired a local Ethiopian woman to
come to our home to perform the ceremony. The ceremony includes incense, boiling of Ethiopian coffee beans and of course, serving coffee with other treats like popcorn and crackers. Ethiopia is where coffee originated and I kind of compare it to how
the British have their teatime daily. William put on our downloaded Ethiopian tunes and Haben probably thought we were all crazy. Hopefully it will mean something to him in the future. It brought back memories of our experience in Ethiopia and how
they performed these coffee ceremonies even in the orphanages when we visited. Just the smell can bring you back down memory lane to a big time in our lives.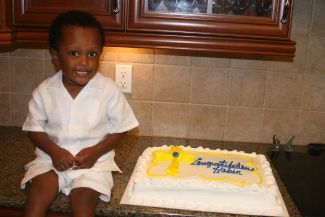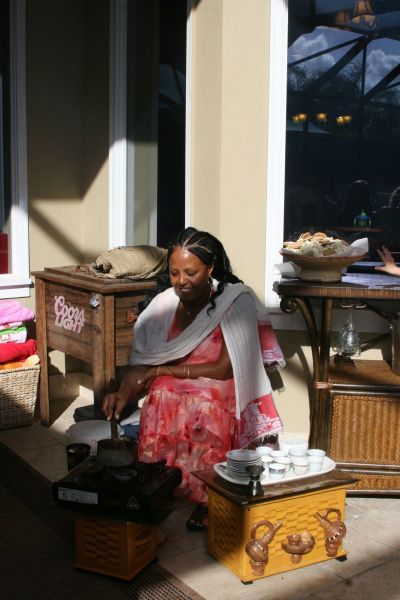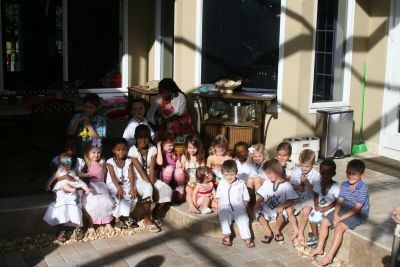 Posted on November 24, 2011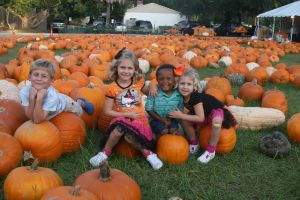 October brought us to our usually spot, the pumpkin patch, where we let each kiddo pick a medium sized and a small
sized pumpkin. It's a long and difficult process to make decisions on those. I decided to forgo my favorite pile of hay that I love to stack on the porch for décor. William really despises the mess of it for some reason and well, 8 pumpkins
and 4 kiddos is a car full for us.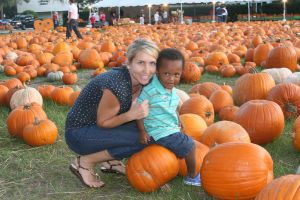 Haben loved his Yo Gabba Gabba costume! He really is a music lover
like DJ Lance Rock and with his matching brown skin we really couldn't resist. He learned real quick about heading up to each house and repeating what the siblings say gets you CANDY! And well, not sure if he was too exhausted to get up any more
stairs towards the end or if he just didn't want to get up out of the wagon and stop grabbing into that candy bucket. William's parents were in tow and William's cousin Mike & Jennifer Dunn, with their two cuties, our Halloween get-together
ritual. Red solo cups for Mom and Dad of course, a neighborhood norm.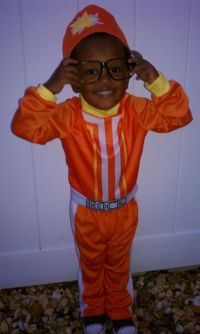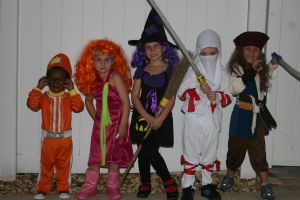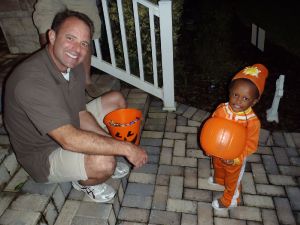 Our sweet Liam was Captain Jack Sparrow (Yippee! Another year of something that is not Star Wars
or Scary…like the big kids). Kaylee was a good witch of course and sweet Mayla has wanted to be Daphne from Scooby Doo for two whole years so we went for it. Advice to all parents, don't use a costume with a wig for 4 or under…it
never seems to work. The cute little Ninja is our good buddy Cian, Liam's best bud. Good times by all.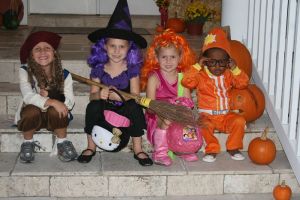 Posted on November 1, 2011