Month:
August 2011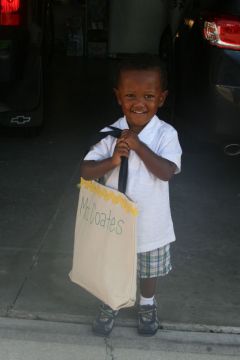 Can you believe I'm sending this little cutie to school already?!! We felt like a two day
a week morning out with peers would help with his language development and socialization as with any two year old. He adjusted great to his first several days. He had a good balance of excitement and anxiety of leaving Mom. He felt so proud to be able
to go. Carrying his schoolbag around is a favorite thing to do. Reports from the teacher say he's off to a great start. I think the teacher's all knew about him throughout my journey so they enjoy him and his story I think and look after
him. Not to mention…he's just a good little boy. It works out well that Mayla goes to Pre-K at this school also and since they are such buddies they just head out together.
Liam and Kaylee starting Kindergarten has been an
exciting but tough transition. We are up earlier than we are used to for their starting time and it's a long day for them and for me without them. Thank the Lord it's the sweetest school and we are so thrilled for them to be a part of such
a loving, spiritual community. They adore their teacher and are pretty excited about the uniform thing.
Aubrey got all settled into her dorm and we are excited for her sorority rushing activities. It was sad to move her in and then
pull away but thank goodness she is only about 11 miles away. We aren't sure what we are going to do without having her around all the time.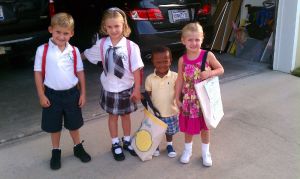 Haben has gained 5 lbs. since coming home, grown 3 inches and is now on the
growth chart at the 15th percentile. Yahoo! He has caught up on his immunizations primarily, survived circumcision surgery and is a pretty darn healthy kid. He is potty training quickly and excited to do everything these big kids can do. What a little
smarty I might add.
Posted on August 15, 2011