Month:
December 2011
Why does everything just seem cuter in December? The adorable crafts the kids bring home, the cute outfits we dress them up in, and the bright lights and décor all around. And I swear, the kids are at their cutest
trying to be so sweet knowing Santa is coming. We get so excited about using our advent calendars with surprises everyday. My very favorite part of Christmas this year was letting the children pick out presents for their siblings and opening them separately
on Christmas Eve. William and I could almost cried seeing their sweet faces being so thankful. Their siblings just mean so much to them and even the teensiest gift was important to them this time. Glad I incorporated this. And I somehow even got all
my wrapping done before Christmas Eve! These are some Christmas card reject photos but they show more of the fun they are having. And check out that might big bribe they got in the end!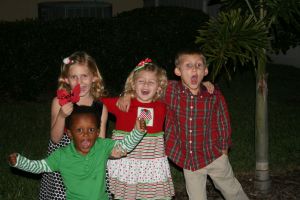 Another highlight was our family vacation we took on the other side of the city. We went to the Gaylord Palms Hotel for their Shrek the Halls and it was a great vacation trial experience for us with 5 kids. We loved playing
in the fake snow and enjoyed the cool Ice display. There were lots of our favorite characters and Haben seems to like all except wanted to keep some distance between Shrek and the Kung Fu Panda. We were happy William's parents and my Mom came
along to enjoy the fun. One discovery… we have outgrown the one hotel room, completely.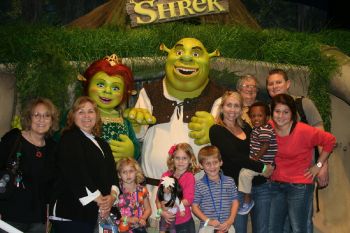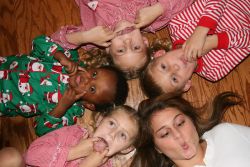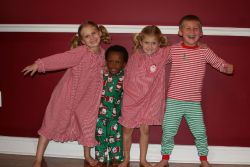 We were thankful to enjoy Haben's
first Christmas with us. He was just perfectly appropriate and surprisingly not overwhelmed by it all. What a cool kid.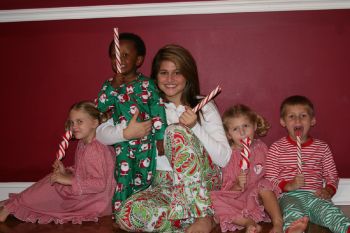 Posted on December 30, 2011