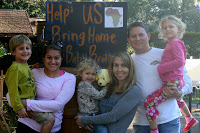 We decided to hold a yard sale fundraiser to help raise money for our costly flights to Africa. (We will need to fly over twice, once for court and then again to pick him up.) An email was sent out to family and friends and the garage
was quickly filled. We were so amazed by the amount of items we collected that were donated by everyone! We even needed to rent a U-Haul to take two trips over to the in-laws where we had the sale. We were so grateful for the help of my in-laws, Sandy
& Bill, my Mom who made the trip over from Clearwater, our friend Polly, and for Dennis Bryson, a friend of the family who donated his time for the entire three days and didn't leave until the last item left the premises!!! We have to mention the
Romanos for the unbelievable furniture that was donated! and the Griffin's furniture as well. We truly felt the love and support of all of our friends and feel we had a record yard sale that will be so helpful in our efforts to bring our new son
home forever! Thanks so much from the bottom of our hearts everyone!
Posted on January 21, 2011